Complete Physiotherapy Software
Physio Cloud Software
Physiotherapy cloud software is a complete physiotherapy software solution and includes CRM, appointment scheduling, exercises, flowsheets, evaluations, account bookkeeping, medical history, assessment, and patient management system.
Physio Evaluation
Accurate and comprehensive physio assessments are the cornerstone of effective physiotherapy practice. Thorough evaluation of various body parts is crucial for diagnosing conditions, designing personalized treatment plans, and tracking patient progress. Physio Cloud Software, a comprehensive CRM system tailored specifically for physiotherapists, features an advanced Physio Evaluation System that streamlines the assessment process. This article explores the benefits and features of the Physio Evaluation System in Physio Cloud Software and its role in optimizing patient care.
Physio Cloud Software separates the assessment section into seven main body parts: spine, shoulder, elbow, wrist/hand, hip, knee, and ankle/foot. This structured approach simplifies assessment organization and enables practitioners to focus on specific areas of concern. By categorizing assessments based on body parts, physiotherapists can efficiently navigate through the evaluation process, ensuring that no crucial assessment components are overlooked.
Based on the selection of the body part, Physio Cloud Software displays the appropriate evaluation guide. Each evaluation guide contains a comprehensive set of assessment criteria specific to the selected body part. These guides act as a roadmap for physiotherapists, providing step-by-step instructions and highlighting key evaluation parameters. By following the evaluation guide, practitioners can conduct thorough assessments while examining the patient, ensuring consistency and accuracy in their evaluations.
Physio Cloud Software allows physiotherapists to record assessment findings directly into the system in real-time. The intuitive interface enables quick and effortless data entry, reducing the need for manual paperwork and ensuring data accuracy. By capturing assessment data electronically, practitioners can access and review the information instantly, enhancing efficiency and improving continuity of care.
Physio Cloud Software offers robust reporting and analytics capabilities for assessment data. The system generates comprehensive reports that summarize assessment findings, providing visual representations of patient progress and functional outcomes. These reports can be shared with patients, referring physicians, and other healthcare professionals, facilitating collaborative care and ensuring transparent communication.
The Physio Evaluation System in Physio Cloud Software revolutionizes the way physiotherapists conduct assessments, organize data, and develop personalized treatment plans. With its structured approach, tailored evaluation guides, comprehensive assessment criteria, and real-time data capture, the system enhances the accuracy and efficiency of assessments. By leveraging the power of technology, physiotherapists can optimize patient care, make informed treatment decisions, and achieve superior outcomes. With Physio Cloud Software's Physio Evaluation System, physiotherapists can elevate their assessment capabilities and deliver exceptional care to their patients.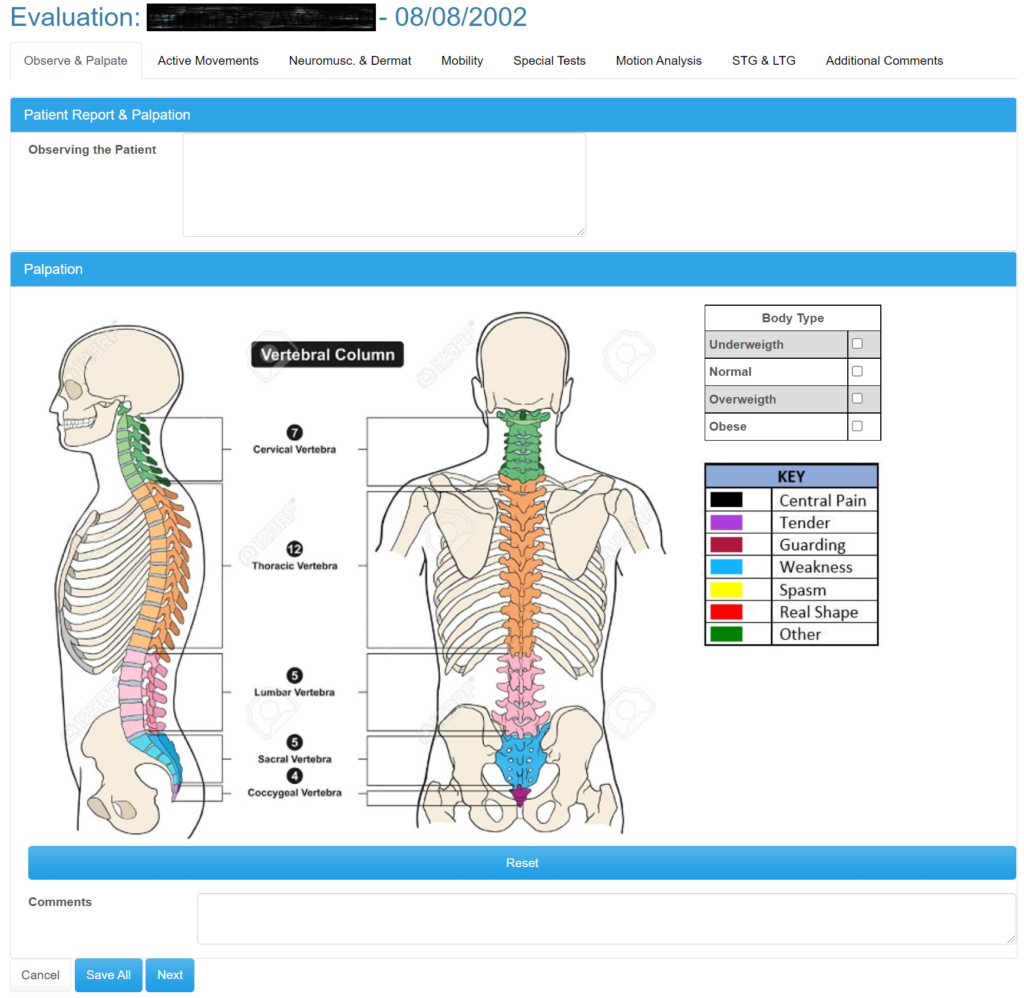 MONTHLY
€35
per month
(10% Discount)

YEARLY
€385
per year
(save 1 month)