Complete Physiotherapy Software
Physio Cloud Software
Physiotherapy cloud software is a complete physiotherapy software solution and includes CRM, appointment scheduling, exercises, flowsheets, evaluations, account bookkeeping, medical history, assessment, and patient management system.
CRM
Customer relationship management (CRM) is the combination of practices, strategies and technologies that companies use to manage and analyze customer interactions and data throughout the customer lifecycle. The goal is to improve customer service relationships and assist in customer retention and drive sales growth. CRM systems compile customer data across different channels, or points of contact, between the customer and the company, which could include the company's website, telephone, live chat, direct mail, marketing materials and social networks. CRM systems can also give customer-facing staff members detailed information on customers' personal information, purchase history, buying preferences and concerns.
Why CRM benefits businesses The use of CRM systems can benefit organizations ranging from small businesses to large corporations, through:
Having customer information such as past purchases and interaction history easily accessible can help customer support representatives provide better and faster customer service. Collection of and access to customer data can help businesses identify trends and insights about their customers through reporting and visualization features. Automation of menial, but necessary, sales funnel and customer support tasks.
Physio Cloud Software includes CRM that aggregates patient data and provide physiotherapists examining patients with detailed information about patients' personal details, contact details, emergency contact details, medical history, incidents, flowsheet reports, physio evaluations, treatments, patient account records, as well as previous patient examinations e.g. x-rays, MRI, CT scans, blood tests, surgeries etc.
Physio Cloud Software allows direct communication with patients through the SMS and Email Notification System. Throughout the Notification system, Administrators can schedule notifications for appointments, schedule notifications for cancelations of appointments, schedule notifications for birthday wishes and payment reminders. In addition, it allows the submission of bulk SMS and Email notification on demand.
Physio Cloud Software has evolved to meet the ever-changing needs of the profession. It has become the go-to solution for physiotherapists worldwide, allowing them to focus more on their patients and less on administrative tasks. With its user-friendly interface, intuitive appointment scheduling, and seamless billing and documentation capabilities, the software has transformed how physiotherapists run their practices.
Moreover, the system's advanced analytics and reporting functionalities have empowered physiotherapists to gain valuable insights into their practice performance, enabling them to make data-driven decisions and optimize their services. By identifying trends, tracking patient progress, and measuring key performance indicators, physiotherapists can continuously refine their treatment protocols and achieve better results for their patients.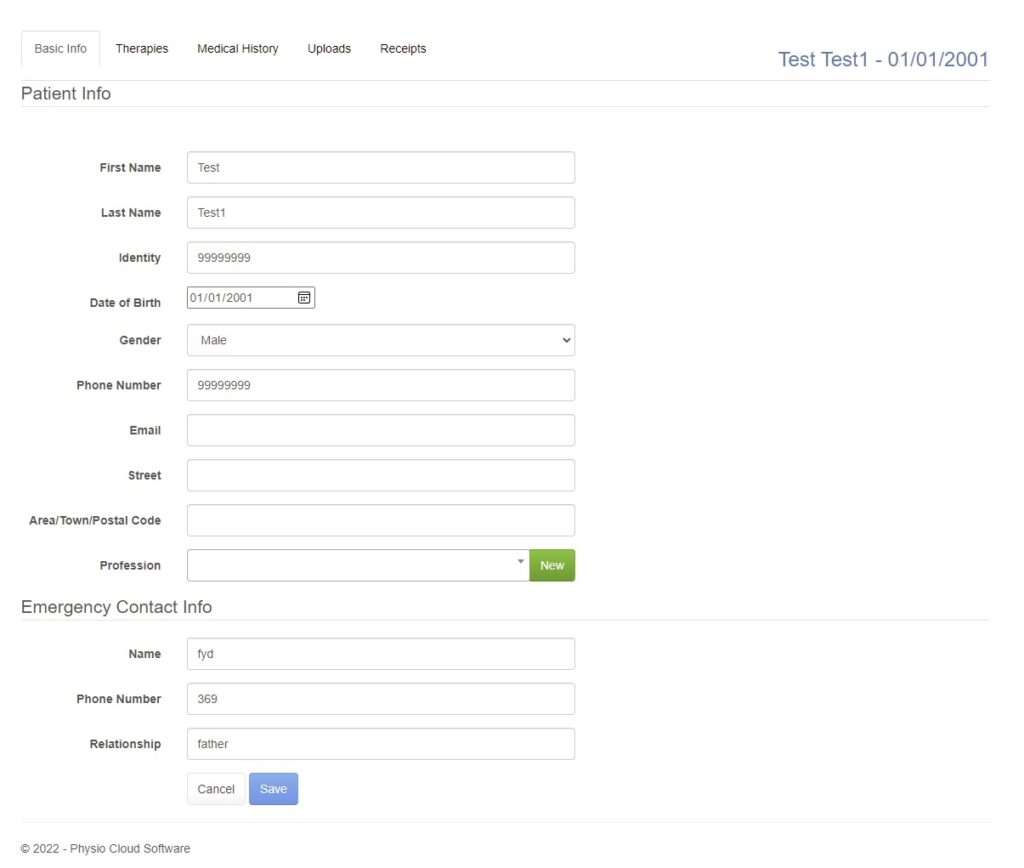 MONTHLY
€35
per month
(10% Discount)

YEARLY
€385
per year
(save 1 month)
---