Complete Physiotherapy Software
Physio Cloud Software
Physiotherapy cloud software is a complete physiotherapy software solution and includes CRM, appointment scheduling, exercises, flowsheets, evaluations, account bookkeeping, medical history, assessment, and patient management system.
Appointments
You or your staff can book appointments for your patients through the software's live calendar.
Log in from anywhere, on any device to manage your practice and check your appointments for the day, week or month.
Any changes you or your staff make, updates the calendar instantly.
It is a fully mobile friendly software that:
Can match service requests to staff specialties.
Makes appointment scheduling and reception management more efficient and less time consuming. Improves communication and takes away human error between departments.
In the fast-paced world of physiotherapy, efficient booking management is crucial for practitioners to provide quality care and maximize their productivity. Physio Cloud Software, a comprehensive CRM system designed specifically for physiotherapists, offers a powerful appointment calendar system that revolutionizes the way appointments are scheduled and managed. This article explores the benefits and features of the appointment calendar system in Physio Cloud Software and how it enhances the overall patient experience.
Physio Cloud Software's booking calendar system simplifies the scheduling process, allowing physiotherapists to effortlessly book, modify, and cancel appointments. With just a few clicks, practitioners can view their availability, select time slots, and allocate appropriate durations for each appointment. The intuitive interface ensures a smooth and user-friendly experience, saving valuable time and minimizing scheduling conflicts.
One of the standout features of Physio Cloud Software's booking calendar system is its ability to send automated reminders and notifications to patients. By leveraging this functionality, practitioners can significantly reduce no-shows and last-minute cancellations. The system can send reminders via SMS, email, or even push notifications, ensuring that patients are well-informed about their upcoming appointments, thereby improving overall attendance rates.
The appointment calendar system also enables physiotherapists to streamline their patient flow. They can set specific time intervals between appointments to allow for necessary preparation, documentation, and room sanitization. By maintaining an optimized schedule, physiotherapists can ensure they have ample time to provide personalized care to each patient without unnecessary delays or rush.
Life can be unpredictable, and sometimes appointments need to be rescheduled. Physio Cloud Software's appointment calendar system allows for easy rescheduling by simply dragging and dropping appointments to new time slots. Moreover, in case of cancellations, the system offers waitlist management capabilities, automatically notifying patients on the waitlist about any available slots. This ensures that no appointment goes unfilled and maximizes the utilization of the physiotherapist's time.
The appointment calendar system in Physio Cloud Software goes beyond basic scheduling functionality. It provides comprehensive reporting and analytics on appointment history, patient attendance rates, and practitioner availability. These insights empower physiotherapists to identify trends, optimize their schedules, and make informed decisions regarding staffing requirements and resource allocation.
The calendar appointment system in Physio Cloud Software is a game-changer for physiotherapists, offering a seamless and efficient approach to scheduling and managing appointments. By simplifying the process, automating reminders, optimizing patient flow, and providing robust reporting and analytics, this system enhances both the practitioner's productivity and the patient's experience. With Physio Cloud Software's appointment calendar system, physiotherapists can focus on delivering exceptional care while ensuring a well-organized and efficient practice.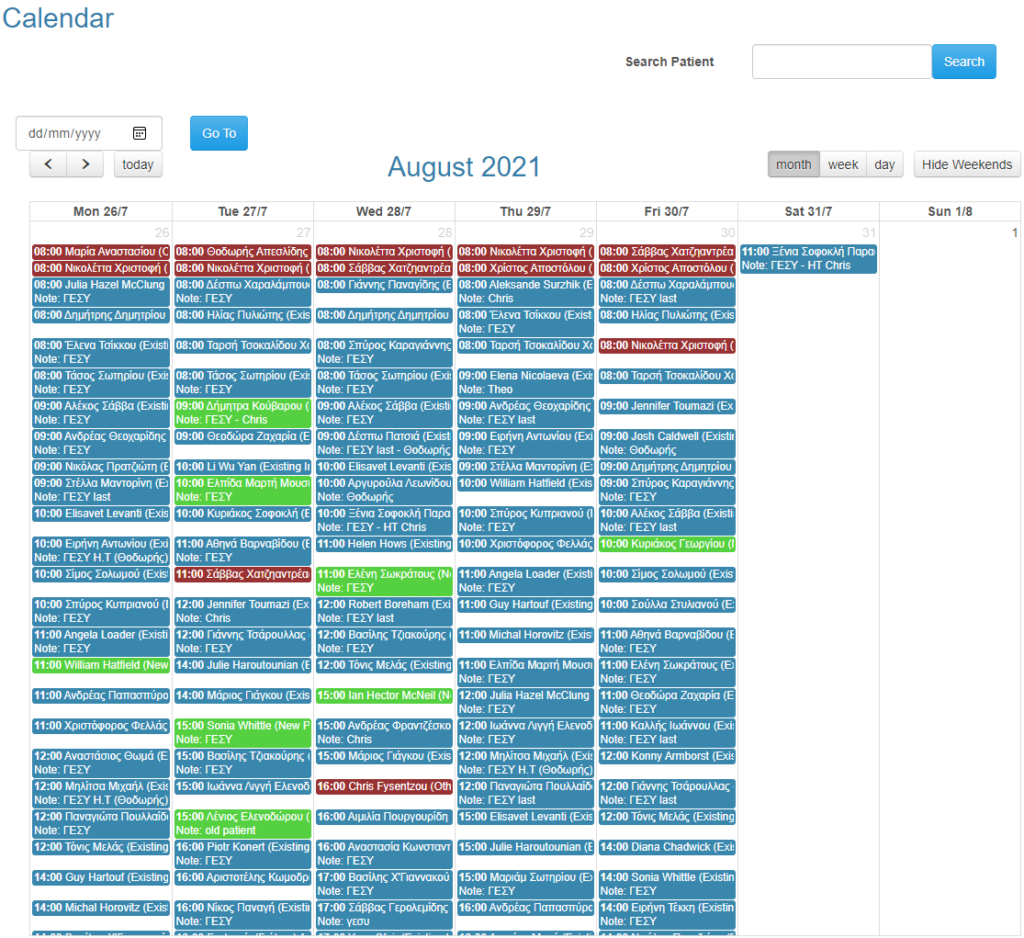 MONTHLY
€35
per month
(10% Discount)

YEARLY
€385
per year
(save 1 month)