Complete Physiotherapy Software
Physio Cloud Software
Physiotherapy cloud software is a complete physiotherapy software solution and includes CRM, appointment scheduling, exercises, flowsheets, evaluations, account bookkeeping, medical history, assessment, and patient management system.
Exercises
In the field of physiotherapy, exercise plays a crucial role in promoting recovery, improving mobility, and enhancing overall patient well-being. Physio Cloud Software, a comprehensive CRM system tailored specifically for physiotherapists, features an advanced Exercise Management System that revolutionizes the way rehabilitation programs are designed, monitored, and tracked. This article explores the benefits and features of the Exercise Management System in Physio Cloud Software and its positive impact on patient outcomes.
Each exercise contains:
Its picture
Description of the exercise
Comments to the patient
Sets
Repetitions
Time of the exercise
Sessions per day
Through our exercise management system, you can create new exercises as well as edit, modify and delete existing exercises.
Allocate exercises to patient's flow sheets with all the above details and issue / print / sent the exercise handbook to the patient to use as a home exercise program.
The Exercise Management System in Physio Cloud Software empowers physiotherapists to create personalized exercise programs for their patients. With a vast library of exercises and customizable parameters, practitioners can tailor programs to each individual's unique needs, goals, and capabilities. From range of motion exercises to strength training routines, the system offers a diverse array of exercises to cater to various conditions and stages of rehabilitation.
One of the standout features of the Exercise Management System is its ability to provide visual demonstrations and instructions for each exercise. Patients can access their personalized exercise programs through a user-friendly portal, where they can view videos, images, and detailed instructions for each exercise. This visual guidance ensures that patients perform the exercises correctly, minimizing the risk of injury and maximizing the effectiveness of the rehabilitation program.
Physio Cloud Software's Exercise Management System enables physiotherapists to track their patients' progress and compliance with their exercise programs. Patients can log their exercise sessions, record the number of repetitions, sets, and weights, and provide feedback on their comfort level and any challenges faced. This real-time data allows physiotherapists to monitor adherence to the prescribed exercises and make necessary adjustments to optimize the rehabilitation process.
With the Exercise Management System's comprehensive reporting and analytics capabilities, physiotherapists can leverage data to make informed decisions. The system provides insights into exercise adherence, patient progress, and overall program effectiveness. These analytics enable practitioners to identify trends, modify exercise programs when necessary, and evaluate the impact of specific exercises on patient outcomes.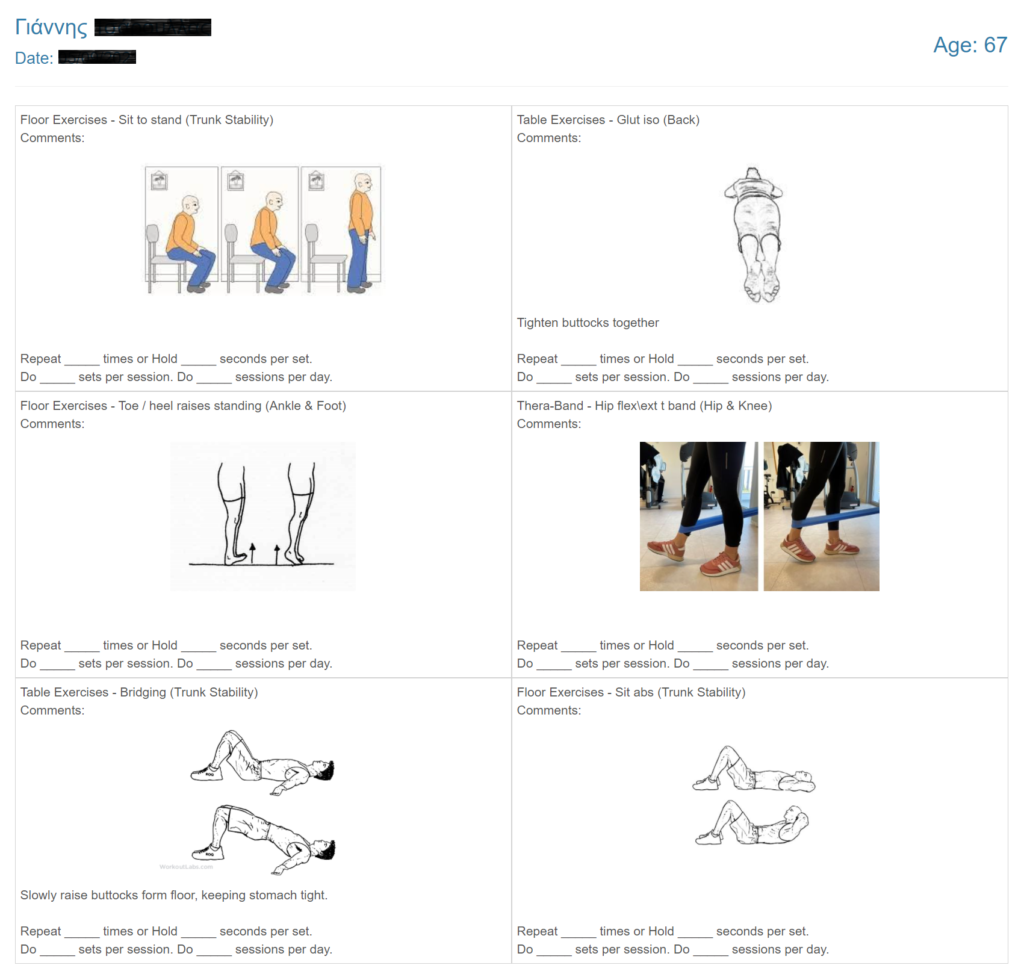 MONTHLY
€35
per month
(10% Discount)

YEARLY
€385
per year
(save 1 month)